April 3, 2020
National Grid's contractor, Creamer Environmental, is implementing remedial actions at the Citizens former Manufactured Gas Plant (MGP) Site to address MGP Site related impacts in accordance with the NY State DEC approved design.  Mobilization began on July 10, 2019 and the remedial activities are expected to take about 2 years to complete.  The cleanup activities are being performed with oversight by the New York State Department of Environmental Conservation (NYSDEC).  Community air monitoring and vibration monitoring are being conducted during this project.
On-going activities:
Transportation of materials off-site for disposal and recycling
Pre-drilling the sheeting alignment for the Parcel 1 soil remediation area
Selective demolition of the Parcel 2 bulkhead
Installation of the new Parcel 2 bulkhead
Recently completed activities:
Excavation and backfilling of Parcel 3 soil remediation area at the first temporary membrane structure location
Upcoming work activities:
Relocation of temporary membrane structure on Parcel 3
Community Air Monitoring Plan Summary

Continuous community air monitoring is on-going.  For the period 3/26/20 through 4/01/20 there was no 15-minute Action Limit exceedances for Total Volatile Organic Compounds (TVOC).  On 3/30, there were two 15-minute Action Limit exceedances for Particulate Matter (PM-10) [dust] within the western Site boundary along the Gowanus Canal.  Additional dust mitigation consisting of increased water application in the work area was implemented immediately following notification of the elevated PM-10 concentrations.  No additional 15-minute Action Limit exceedances for PM-10 occurred during the reporting period.

Backfilling of the Parcel 3 soil remediation area.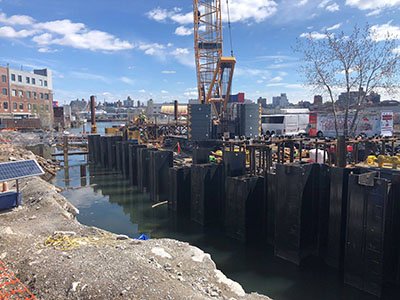 Installation of the Parcel 2 bulkhead.