September 6, 2019
National Grid's contractor, Creamer Environmental, is implementing remedial actions at the Citizens former Manufactured Gas Plant (MGP) Site to address MGP Site related impacts in accordance with the NY State DEC approved design.  Mobilization began on July 10, 2019 and the remedial activities are expected to take about two years to complete.  The cleanup activities are being performed with oversight by the New York State Department of Environmental Conservation (NYSDEC).  Community air monitoring and vibration monitoring are being conducted during this project.
On-going activities:
Electrical service installation
Installation of perimeter construction fencing
Installation of geotechnical instrumentation
Installation of soil erosion controls
Temporary 5th Street sidewalk and lane closure
Grading on-site parking areas
Materials Characterization sampling
Regrading one of the two soil remediation areas
Recently completed activities:
Well abandonment/modifications
Upcoming work activities:
Installation of water treatment system (for future use)
Construct on-site access roads
Pre-trenching the sheeting alignment for one of the two soil remediation areas
Pre-drilling the sheeting alignment for one of the two soil remediation areas
Community Air Monitoring Plan Summary

Continuous community air monitoring is on-going.  For the period 8/29/19 through 9/4/19 there were no 15-minute Action Limit exceedances for Total Volatile Organic Compounds (TVOC) or Particulate Matter (PM-10) [dust].

Geotechnical instrumentation installation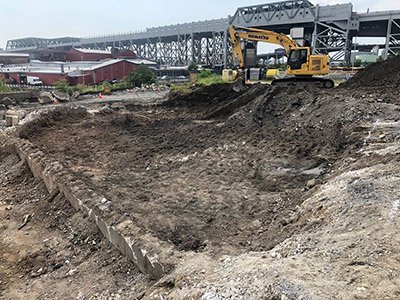 Re-grading of soil remediation area