Citizens former Manufactured
Gas Plant Site
Gas used for cooking, lighting, heating and commercial purposes was manufactured at the Citizens Manufactured Gas Plant from the 1860's to the early 1960's. The plant was built by the Citizens Gas Company, and sold to Brooklyn Union, a predecessor of National Grid, in 1895. It used coal and petroleum products to create a flammable gas which was piped to users in the surrounding neighborhoods. The production and storage facilities were decommissioned and demolished in the early 1960's, and Brooklyn Union sold the site in 1969, after which it had no control of anything that happened on the property. The by-products of gas production and storage that resulted from site operations will be addressed through a Remedial Plan being implemented by National Grid with oversight of the New York State Department of Environmental Conservation (NYSDEC).  Most of the site is owned by the City of New York, with the balance owned by private companies. National Grid is responsible for the investigation and remediation of the site because it was operated by a predecessor company at the time the contamination occurred. 
This website provides information on the Citizens former MGP Site, the remediation projects and opportunities for public participation. National Grid is committed to the protection and enhancement of the environment, always seeking ways to minimize the environmental impacts of our past, present and future activities. We hope this website, a part of our public participation and outreach efforts, is helpful and informative. If you need additional information or have suggestions to make our website better, please contact the individuals listed under Contact.
Update
April 9, 2021
National Grid's contractor, Creamer Environmental, is implementing remedial actions at the Citizens former Manufactured Gas Plant (MGP) Site to address MGP Site related impacts in accordance with the NY State DEC approved design.  Mobilization began on July 10, 2019 and the remedial activities are expected to be completed by the middle of 2021.  The cleanup activities are being performed with oversight by the New York State Department of Environmental Conservation (NYSDEC).  Community air monitoring and vibration monitoring are being conducted during this project.
Overview:
The key elements of the remediation work include excavation of MGP Site impacted soils and installation of bulkheads using heavy construction equipment.
Preparation for these key remediation elements requires sheet pile installation to support excavations on site, as well as construction of bulkheads along the Gowanus Canal.
There are established measures to reduce potential noise, vibration, and dust from the work including pre-drilling before sheet pile driving, installation of a noise mitigation wall, and the use of temporary enclosed fabric structures with air handling systems to control air emissions from the excavation work within the fabric structure.
Air, noise, and vibration monitoring are conducted each day to ensure that the work is conducted in accordance with the requirements of NYSDEC, NYSDOH and NYC.
On-going activities:
Grading Parcel 1 soil remediation areas
Removal of temporary support of excavation steel sheeting on Parcel 1
Demobilization of water treatment system
Transportation of materials off-site for disposal and recycling
Recently completed activities:
Removal of temporary membrane structure on Parcel 1
Backfilling of fourth phase of Parcel 1 soil remediation area
Upcoming work activities:
Installation of crushed stone surface on Parcel 1
Community Air Monitoring Plan Summary

Continued community air monitoring.  For the period 04/01/21 through 04/07/21 there were no levels above the 15-minute Action Limit for Total Volatile Organic Compounds (TVOC) or Particulate Matter (PM-10).

Removal of temporary support of excavation sheet piling on Parcel 1.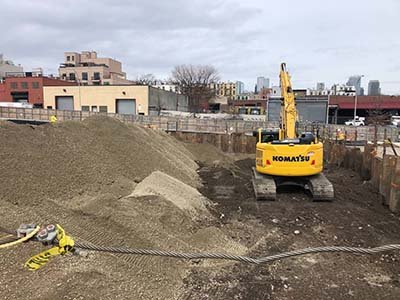 Backfilling of fourth phase of Parcel 1 soil remediation area.
Contact Information
National Grid will provide updates as the work at the site proceeds.  For more information, please leave a message on our hotline at (718) 982-7349, email us at info@citizensmgpsite.com
Website Update Information
National Grid will provide an activity update for neighbors of the former Citizens MGP site with developments related to the investigation and remediation of the Site. During the remedial construction phase, National Grid provides a bi-weekly update on activities related to the remediation of the Site. The updates describe the work being done on and near the Site, and provide a forecast for upcoming work, including information about work that may affect normal community activities. All updates will be archived under the Key Documents tab of this website.